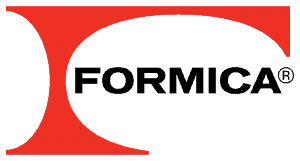 Formica Group is a leading provider of branded, designed surfacing solutions for commercial and residential customers worldwide, as well as the world's largest manufacturer of High Pressure Laminate products.  The following are a sampling of the many colors that Formica offers.  Go to their website for a full color offering.
Standard Laminate Selection
Formica® Brand Laminate offers a broader range of looks than ever before. Transform spaces with our modern laminates that are as beautiful as they are durable. Mix and match solids, graphic patterns and finishes. Achieve the look you want for any design challenge or budget.
180fx Laminate
A high resolution laminate as large as life! 180fx® marks a revolution in surfacing with true-to-scale granite patterns that offer visual drama unmatched by any other laminate. Modern, sophisticated high resolution patterns focus on a neutral palette – versatile enough to pair with any interior design concept.
Formica Writables
Formica® Writable Surfaces are as practical as they are inspirational, while providing the perfect platform to stay connected, manage schedules, play a game or just create. Not only are Formica® Writable Surfaces durable and require simple maintenance, but also offer a consistently smooth finish that is not easily achieved through other writable products. At the heart of Formica® Writable Surfaces are expressions of love, life, friends, and personality. The new collection offers six markerboard and chalkboard designs including exclusive and unique patterns that give you the chance to add your own creative expression. With Formica® Writable Surfaces, we make it writable, you make it memorable. See some samples of Formica's Writable Surfaces below.